In June 2010, the editorial board of Verniana lost one of its most respected and influential members. Walter James Miller was a pioneer of modern Verne studies who, in the 1960s, was the first to point out the poor quality of most English translations of Verne and the damage that this had done to Verne's literary reputation. For half a century, Miller led what he called the "rescue team" – scholars who worked with him and under his influence to rehabilitate Verne's status among contemporary scholars and enthusiasts in the English-speaking world.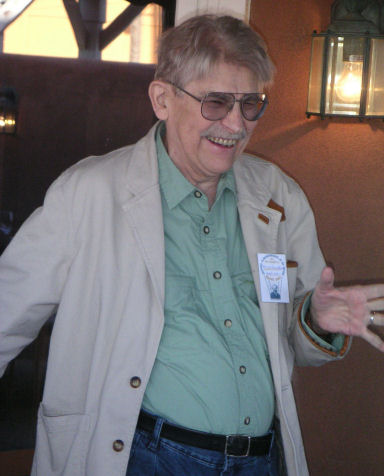 Walter James Miller, June 2007, at the annual meeting of the North American Jules Verne Society in Albuquerque, New Mexico
Numerous publications (including Miller's essay in Volume 1 of Verniana [1]), interviews, and lectures [2] detail the history of this important crusade. Among the many excellent works by Miller that spearheaded this effort are:
the first faithful English translations of Verne's popular novel Twenty Thousand Leagues Under the Sea (by Miller alone in 1965 and later in a 1993 collaboration with Frederick Paul Walter that was published by the Naval Institute [3].
the first annotated editions of Verne novels in any language in The Annotated Jules Verne: Twenty Thousand Leagues Under the Sea (1976) and in The Annotated Jules Verne: From the Earth to the Moon (1978) [4].
the introduction and notes for the first English translation of The Mighty Orinoco, (2002). Miller's critical introduction remains one of the best studies of this novel [5].
Born in McKee, New Jersey, he attended Brooklyn College and Columbia University. From 1943 to 1946 he was a liaison officer in the U.S. Army. Before becoming a professor at the New York University in 1958, Miller taught at Hofstra University, the Polytechnic University (Brooklyn, NY), and at Colorado State University (Fort Collins).
An expert in American literature, Miller forged an international reputation as a literary scholar, poet, and playwright, and authored, co-authored or contributed to 67 books on a wide variety of subjects and writers, such as Samuel Beckett, Upton Sinclair, Joseph Heller, E.L. Doctorow, Ray Bradbury, Edward Bellamy, and his lifelong friend, Kurt Vonnegut. During the 1960s and 1970s, Miller hosted the WNYC television and radio shows "Book World" and "Reader's Almanac," for which he conducted interviews with many up-and-coming-but-not-yet-famous writers such as Nadine Gordimer and Allen Ginsberg. The "Great Books" course he created at NYU and taught for many years was celebrated in 1996 by New York Magazine, in an article titled "Cool Classes, Great Teachers."
A true modern humanist, Walter James Miller was curious about everything and passionate about literature, especially poetry. He shared this passion with students and colleagues for over 40 years. We dedicate Volume 3 of Verniana to one of the founding fathers of modern Verne criticism. We remember Walter as a friend full of humor and kindness, always ready to help.
THE EDITORS
NOTES